---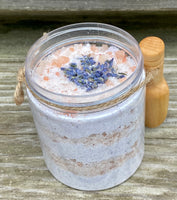 Our lavender milk bath will soften, hydrate, moisturize and leave your skin feeling radiant!
The proteins, fat and lactic acid from milk can soften, soothe and exfoliate dead or dry skin.

Colloidal Oatmeal is soothing to dry skin, rashes, psoriasis, eczema and skin inflammation. Your skin will be left glowing, satin smooth & soft.
Himalayan Pink Salt is excellent at detoxifying the body and also provides a sense of calmness to your bathing experience.

Ingredients: Baking soda, epsom salt, coconut milk powder, colloidal oatmeal, Shea butter, Himalayan pink salt, coarse sea salt, corn starch, titanium dioxide powder, and fragrance.
Listing is for 8.5oz jar, a wooden spoon, and an organza bag for easy clean up.